This is something new I wanted to try starting this year. I wanted to do three top ten lists that outline my favorite items (songs, albums, artists) listened to from the past year.
This list, will be my favorite albums that I listened to this year. Each album listed will have a short explanation as to why it was my favorite. If the album was previously featured on here, I'll link out to the review.
So let me get it started with…
Number 10: ¡Carajo! – Donots (2016)
(Click here for the album review!)
It was a really good year for me when it came to my favorite bands releasing new albums. Number ten on the list is ¡Carajo! by German punk band, Donots. The album was an English language release of their tenth studio album,
From the album review:
Versatility, diversity, and rock… those are three words that you never expect to hear in the same sentence. But the Donots have created an album that is both versatile and diverse, but manages to keep a classic  punk rock sound.

I Will Deny is a giant arena rocker. If you happen to see their performance at Rock am Ring last year, they played a version of Ich mach nicht mehr mit with two other drummers … this song is meant to be played live in front of thousands of people.

No Part of It, is a track that was written about the current refugee crisis throughout Germany and the rest of Europe. Much like Die Ärzte's Schrei nach Liebe, it is an anti-fascist/anti-Nazi anthem… It's got this dance-punk vibe to it only with heavy and roaring guitars and a soaring. I found myself shouting along to the message of the song.
Number Nine: We Were Here – BOY (2015)
(Click here for the album review!)
As I've said in multiple album reviews on here before, I love diversity in my music. I love contrast. I love versatility. More so contrast. This is why I love BOY's We Were Here. The album provides much needed change of pace and contrast in my playlists that I listen to. I also have a thing for female singers, and Valeska Steiner's voice is both breathtaking and stunning. Her vocal range is every bit impressive. Compared to the band's first album, Mutual Friends, the album is more subdued, but is every bit as good as it. The first track grips you and doesn't let go, giving you a sense of the journey that the duo BOY have been through.
From the album review:
We Were Here is an excellent sophomore album and perfect follow up to their debut Mutual Friends. We Were Here is an ambitious and charming album that finds it impossible and unnecessary to follow in it's predecessor's path.
Number Eight: This Could be a Possibility – Valencia (2005)
(Click here for the album review!)
Loud and local. That's how I roll sometimes. Valencia was one the bands I listened to so much in high school. So much so I wore out the first CD I ever bought… a copy of Valencia's 2005, This Could Be a Possibility. It as my favorite song from the band: Tenth Street. The band was pop punk at it's finest, and man did I love this album. Each song has that catchy and melodic, yet edgy pop-punk feel to it without it going into too much of mainstream pop-rock.
From the album review:
It's every easy to dismiss Valencia as just another pop-punk, pop-rock, or emo band. But This Could Be A Possibility is a slick and well-crafted debut. The album is full of soaring choruses, crunchy guitar riffs which harmonize when needed, as well as filled with poppy hooks….

At roughly 33 minutes long, it could be the most fun you've ever listen to from a local band.
Number Seven: Music @ Work – The Tragically Hip (2000)
As a friend once told me, "Brian, when it comes to Canadian bands, you need two separate iPods for your Rush and your The Tragically Hip albums…" Well he wasn't wrong. I listened the hell out of The Tragically Hip's Music @ Work. The eponymous track, Music at Work, is the ultimate disgruntled worker's anthem. The lyrics of the tracks on here are odd and cryptic, yet give a view into the human condition. The album is a work of consistency and the old adage, "less is more".
Number Six: From Caplan to Belsize – Muncie Girls (2016)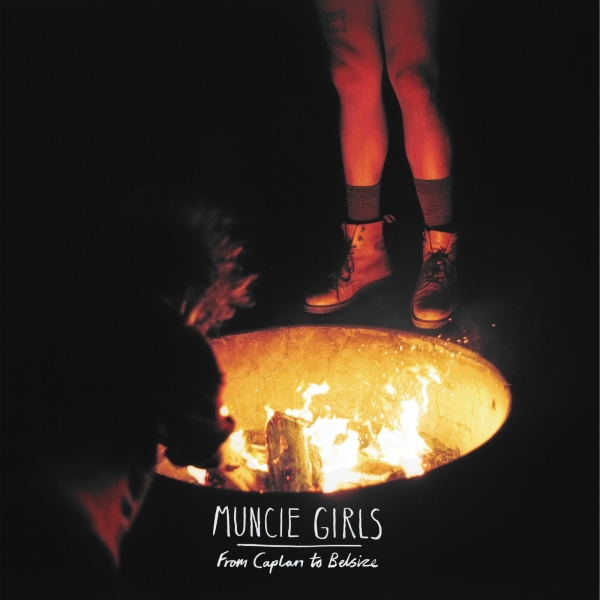 Once again, I struck gold within Spotify's "suggested songs". And man does From Caplan to Belsize from Muncie Girls hit a home run. The album is filled with smart lyrics and catchy indie-punk tracks. The album has excellent songwriting, excellent dynamics, and overall catchy quips within the songs. It's a solid debut album. The album is full of variety while remaining consistent with the sound the band has made from previous smaller releases.
Number Five: Get Lost, Find Yourself – Chunk! No, Captain Chunk! (2015)
Another one of the rare finds from within the "suggestions" that Spotify offers. One listen to the third track,  The Other Line, from French pop-punk band, Chunk! No, Captain Chunk!'s Get Lost, Find Yourself, and I was instantly hooked. Tracks like Playing Dead, Set it Straight, as well as The Other Line remind us just how fun pop-punk can be. It's just one of awesome albums to rock out to.
Number Four: Boombox – Beatsteaks (2011)
(Click here for the album review!)
Once again, another German punk band sneak their way into my most listened to albums for the year. The Beatsteaks, much like the Donots, are veterans of German punk rock. Though Beatsteaks, to me, have always been closer to alternative rock. But I digress. One of my favorite songs from their album Boombox, is Milk & Honey. It's one of my favorite songs ever.
From the album review:
Milk & Honey. Arnim Teutoburg-Weiß's vocals on the track are perfect […] Maybe it's because the song […] is a slightly more gentler side of the band. It's guitar riffs are solid, the vocals are sharp and crisp, the bass bounces nicely, and piano riffs are excellent.

While their old punk intensity may or may not be fully present on this album, the catchy choruses and riffs are bountiful. This album is a straightforward rocker, that's no-nonsense. It's a delightfully dirty, raw, rowdy, and gripping album.
Number Three: Ein Kleines Bisschen Horrorshau – Die Toten Hosen (1988)
Third German punk band on here… and this time it is the "godfathers" of German punk. Ein Kleines Bisschen Horrorshau by Die Toten Hosen, is one of the quintessential German punk albums. It's also the quintessential Die Toten Hosen album. This album was creatively written and the lyrics are imaginative.
The opening and closing songs are excellent Hier kommt Alex (Here comes Alex), starts off with snippet of Beethoven's 9th Symphony. BEETHOVEN. This album is a concept album based on the film A Clockwork Orange. I mean seriously, how many bands can even pull off something like this? The ending track, Bye, Bye Alex is pretty much structurally and musically similar to the opening track, Hier kommt Alex. Overall it is a excellent album, especially if you have read and seen A Clockwork Orange.  It's even better if you understand German.
Number two: Afraid of Heights – Billy Talent (2016)
I awaited this album for awhile. Canadian punk band Billy Talent, never disappoints. Their fifth album picks up where Dead Silence left off. Their fifth album, Afraid of Heights captures the essence of previous Billy Talent releases… from the catchy anthems of Billy Talent I, II, and III to the gravity and headiness of Dead Silence.  The centerpiece of the album besides the tracks, February Winds, Horses & Chariots, and This is Our War is the two part Afraid of Heights. Part one, the single version and the second track of the album hits home on conquering fears and taking a step into the unknown. The second part of Afraid of Heights, the reprise (and final track), is punctuated by an extremely uplifting guitar solo and closes out the album beautifully.
Number One: Morning Report – Arkells (2016)
Here we are, we've arrived at our final destination… number one. This was a no-brainer. I've worn out my CD copy of Arkells' 2016 release, Morning Report. It's got so many different feelings and sounds to it, it might actually hurt the album. But it doesn't. These different sounds and styles add layers of versatility; there is no one set, specific tone to any of the tracks. For me, some of the defining moments on the album are: Private School, Making Due, and My Heart's Always Yours. Max Kerman, frontman for the band, has a voice that's like a shape-shifter. Going from an almost gospel rock on Drake's Dad to the jam that is Private School. While its a bit of a departure from previous work, I couldn't say enough about this album… but I'll save that for a later date.
Conclusion
There you have it my top 10 albums that I listened to from the past year. I would love to hear about your top 10 albums that you listened to in the past year. Here's to an excellent 2017!